Peek behind the locked door!
Discover How Unforgettable Gatherings Look in the Exciting Escape Rooms of Enigmarium's New Centre on Trdinova ul. 4.
In accordance with our mission – to create unforgettable experiences that promote cultural heritage in a gamified way – in our centre on Trdinova ulica, under the premises of the Historical Archives, we found inspiration for exciting games nowhere else than in Janez Trdina's Fables and Tales of the Highlanders. We have created two exceptional escape games: "The Lost Submarine: Operation Waterman" and "When the Full Moon Rises: The Return of the Werewolf". Both are characterized by excellent game flow, truly cinematic scenography, plus lots of surprises, original challenges and "aha" moments. (See what they say about us on Trip Advisor, Google, etc … )
What does an unforgettable gathering look like?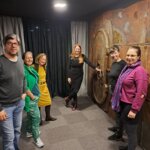 In addition to the existing Enigmarium Centre on Trdinova ul. 8, where we have 4 escape games, we can now organize get-togethers and games for larger groups. That means we can even accommodate over 40 people at the same time, on an additional 350m2 and with three new games in the immediate vicinity.
We greet the teams 10 minutes before the start of their session in the meeting room on Trdinova ul. 4. After a welcome address and briefing in Slovenian or English (the games themselves are language independent, on a symbolic level) the participants are divided into smaller teams and assigned to different escape rooms.
Teams head into the rooms for an exciting one-hour adventure under the careful guidance of our gamemasters, who help with hints as needed. We coordinate the games so that they all start at the same time, and we also extend the total time of the event to 120 minutes. The game can also be supplemented with a personalized puzzle with your team's or company's logo or slogan, so that in teams find a piece or pieces of the puzzle in each escape room and together they contribute to a common victory. Instead of a personified puzzle, we can also organize a glass of sparkling wine or expand the event with catering. Write to us for an offer at info@escape-room.si.

Other gamified entertainment programs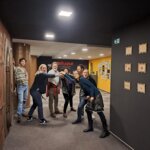 We also offer other programs in the spacious "living room" of our centre. For example, workshops such as The Escape (Work)shop, teambuilding events or fun get-togethers (Mystery Quiz, Winesperience Art, LARP, etc.), which can also be upgraded with catering. These events can provide exceptional entertainment for congress guests, participants in business meetings, school groups, etc. Take a look at the link https://escape-room.si/team-building/ where we describe other gamified programs in which you play the main role!
New "challenge" program
A special feature of the location on Trdinova ul. 4 is that for The Lost Submarine: Operation Waterman, we have two identical escape rooms – that's right, two identical submarines, in which two teams can simultaneously rescue Urška from the hands of the Waterman. It's an excellent option for larger groups of up to 12 people, as the teams can compete with each other. At other locations, we run a challenge so that the teams play their own game, and after a short break, they switch! Fun guaranteed!
Edutainment and education – with the game to greater engagement
If you are looking for a program in which the participants will have fun and take away really useful and applicable workplace skills, our practical workshop "How to use gamification to achieve better results in a business or private environment" also known as "Escape Work(shop)" is the right answer.
The mini-workshop uses a practical example to show how gamification can strengthen engagement. Team engagement is a major advantage enjoyed by companies that succeed in "activating the attention, potential and talents of employees", regardless of their position in the company. One of the best ways to increase engagement is through gamification and group experiences – and that's exactly what Enigmarium® develops and offers.
In an integrated teambuilding event, the participants first try their hand at a fun escape room game, then through analysis and reflection they learn the importance of gamification and entertainment as approaches that are used by even the largest and most successful international companies – such as Google, Red Bull and Lego – to develop the competencies of their employees and improve their business results. Finally, we accompany them home with a set of practical instructions and ideas.
And what unites all the mentioned Enigmarium programs?
We promise an unforgettable experience in which participants will develop skills and new knowledge, improve adaptability and especially communication in new, unfamiliar situations, develop strategies as a team and achieve goals through joint cooperation, bond even more and have great and healthy fun.
Participants enter our room as individuals, and leave our room as an enthusiastic team!
Call us at 031 33 44 88 or write to us at info@escape-room.si and we'll put together a program tailored to your team.