ORIGINAL AND FUN: GROUP ACTIVITIES
with Enigmarium's extraordinary experiences
PERFECT FOR TEAMBUILDING EVENTS, CONGRESSES, CONFERENCES!  UP TO 500 ATTENDEES AT ONCE
BORED? DREADING ANOTHER TOUR?
ESCAPE INTO ONE OF SLOVENIA'S MOST POPULAR, FUN-FILLED EXPERIENCES, WHERE YOU PLAY THE MAIN ROLE!
In 2014, we designed the first escape room in Ljubljana. Today, Enigmarium® – extraordinary experiences, with more than thirty original real-life games, is a trendsetter of the innovative gamified tourist experiences / events / sights in the Alpe-Adria region.
We're aware of the increasing importance of "gamification" and "storytelling" in tourism – today's visitors no longer want to be merely in the role of a passive spectator, instead, they wish for more (inter)active and personalised experiences – where they play the main role and enjoy themselves to the fullest.
Our proven ability to create thrilling gamified experiences rich in the cultural history (awarded with the Snovalec 2015 and Valvarsor Recognition) has led us to create playful experiences in city centres, medieval castles and museums that are now becoming one of the most popular ways to explore Slovenia!
1. ESCAPE ROOM TEAMBUILDING ENIGMARIUM® (INDOOR PROGRAM)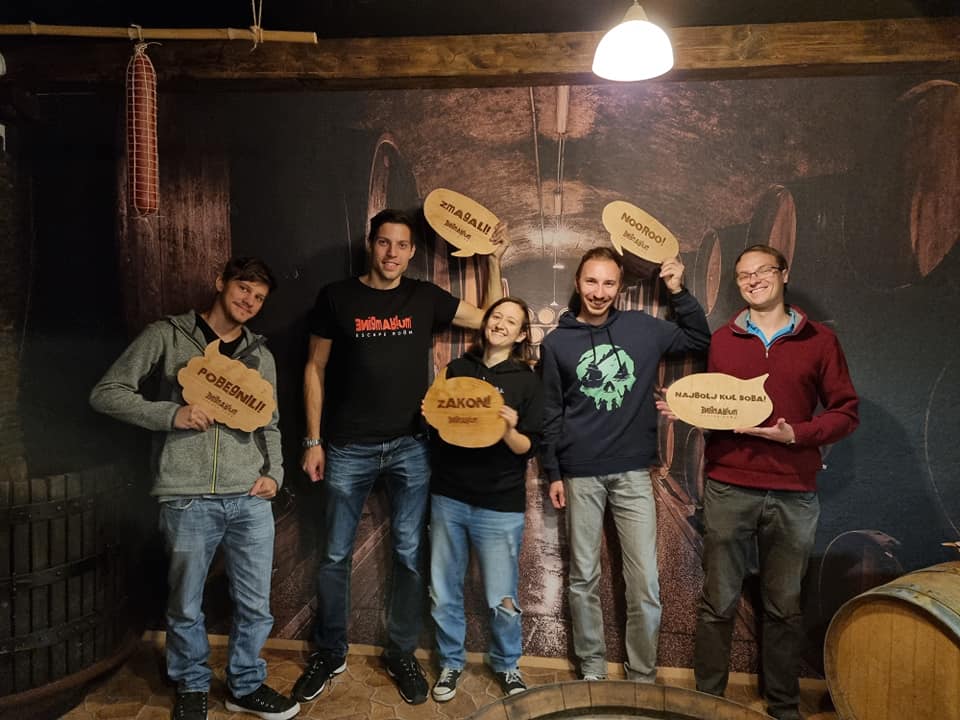 An escape room is an exciting real-life game for a team of 2 to (max) 6 players. In 60 minutes, you have to solve the mission – by discovering hidden objects and clues, deciphering the codes, solving puzzles, thinking logically and cooperating with your team. The game is suitable for friends, families or co-workers. Children under 14 should be accompanied by adults. The games are language independent and – filled with local city history and myths – great fun also for foreign visitors. We can upgrade the game with a personified puzzle just for your group.
Lokation: Trdinova 8, Ljubljana (or Turnerjeva 17, Maribor)
Duration:  120 min
No of players:  8 to 24 (+ extra options)
Price:  25 € per person (+ TAX in case of personified experience)
2. THE DRAGON'S CODE (OUTDOOR ali ONLINE / HIBRIDNO)
INTERACTIVE PLAYFUL LJUBLJANA HIGHLIGHTS TOUR
In a one-hour, ca. 1.5-km-long gamified self-guided city tour in the old town, participants can set off on the paths of Ljubljana's dragons and learn about the city's myths and legends, its actual history and see the most relevant highlights of Ljubljana, while engaging in a playful and fun challenge along the way.
An adventure walk in the city centre is an interactive and challenging way to actively explore a city by combining familiar aspects of an escape room game such as puzzles, surprise twists and challenges.
The game starts at the meeting point at Novi trg 5 where we gather, divide attendees into smaller groups (up to 4 players per group) and set up the game. Each group leader scans a QR code to download and start the interactive app from Google Play or the Apple Store to his/her mobile phone.
The game is suitable for teams of 2 to 4 players each. We can adapt / personificate the game to 100 players.
Languages: Slovenian or English
Location: Ljubljana from Novi trg to Krekov trg
Duration: 75 do 90 minutes
No. of Attendees: from 8 to +100
Approx. price: 200€ per group up to 8 players , 25 € / additional person  (+ TAX in case of personified experience)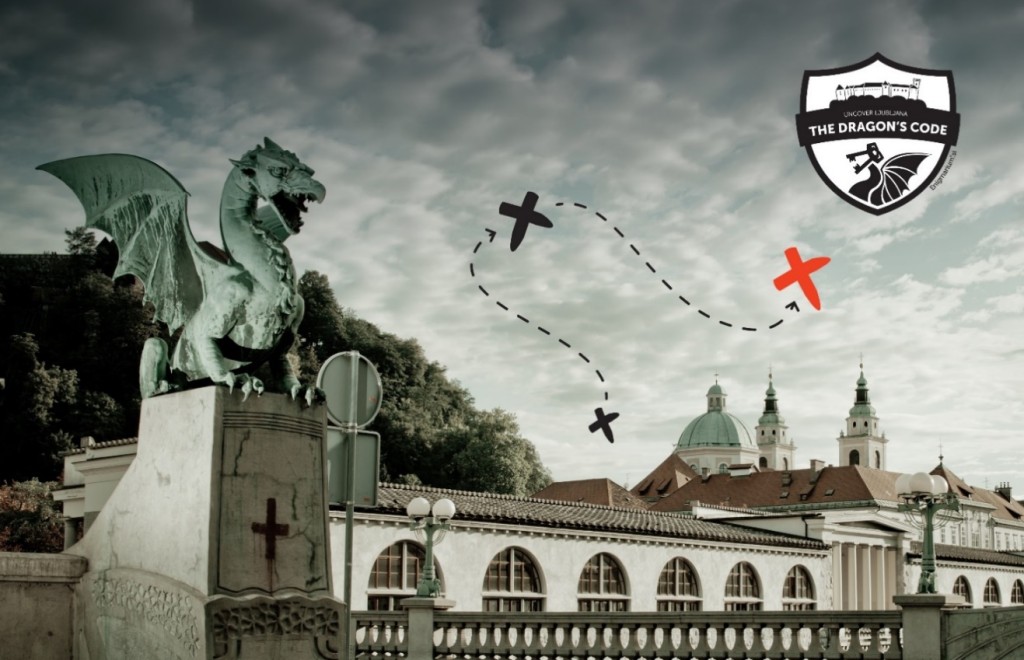 3. A RIVERBOAT QUIZ TOUR (OUTDOOR, LJUBLJANICA RIVER)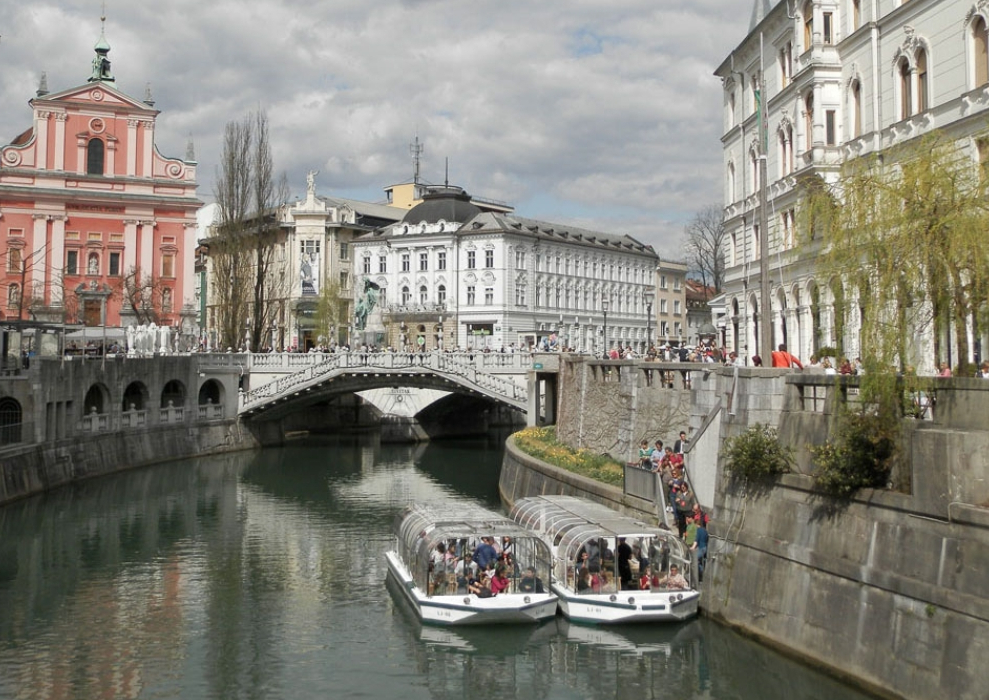 Take a boat ride along the Ljubljanica River and learn about Ljubljana, Slovenia, Slovenians, oddities and specialties by playing an exciting and unique gamified Enigmaquiz.
The moderated entertaining begins at Špica pier in the old-town Ljubljana, where you'll embark on a one-hour scenic round trip boat ride along the Ljubljanica River. That in and of itself is fun, but we've gone a step further and created a quiz related to the legends and actual history of Ljubljana and Slovenia. Besides that, you'll learn about the legend of the Waterman.We can also adapt the questions to your group (ask for a customised offer).
The quiz is suitable for groups from 20 to 100 players in smaller teams of 2 to 4 players.
Languages: Slovenian or English.
Location: Ljubljanica river boat, Ljubljana
Duration:  60 minut boat ride, bruto 90 min
No. of attendees: from 20 to +100
Price: 25 € per person (+ TAX in case of personified experience)
4. GAMIFIED CITY TOUR UNLOCK®  (OUTDOOR)
EMBARK ON A PLAYFUL JOURNEY THROUGH THE OLD CITY CENTRE WHERE FUN CHALLENGES AWAIT YOU
On this one-hour, 2-km-long adventurous journey through the old city center of Ljubljana, Maribor, Bled, Laško, Tolmin,
Slovenska Bistrica, Slovenj Gradec you will encounter 7 entertaining tests, through which you will unlock the secrets, see the highlights of the city, discover the unknown, be pleasantly surprised, exclaim "Eureka!" and have a great time!
The very first outdoor city escape game "UNLOCK" is an urban adventure that reveals a city's real history, myths and legends, with elements of escape room games like secret surprises and a locked (trademarked and patented) wooden book, which will guide you from location to location around the city in the funnest way imaginable.
We can adapt the Unlock game to 150 players / and customise the theme and location. Larger groups can be divided into smaller ones on 24 different trails, so every group has unique puzzles and tasks. We can also add a puzzle to personificate the game, especially for your group.
Languages: Slovenian or English.
Location: Robba fountain in front of City Hall, Ljubljana (or in Maribor, Laško,  Slovenj Gradec, Tolmin, Lake Bled, Slovenska Bistrica or Zagreb, Croatia)
Duration: neto 60 minutes, bruto 90 minutes
No of attendees: from 10 do +100
Price:  25 €/ per player (+ TAX in case of personified experience)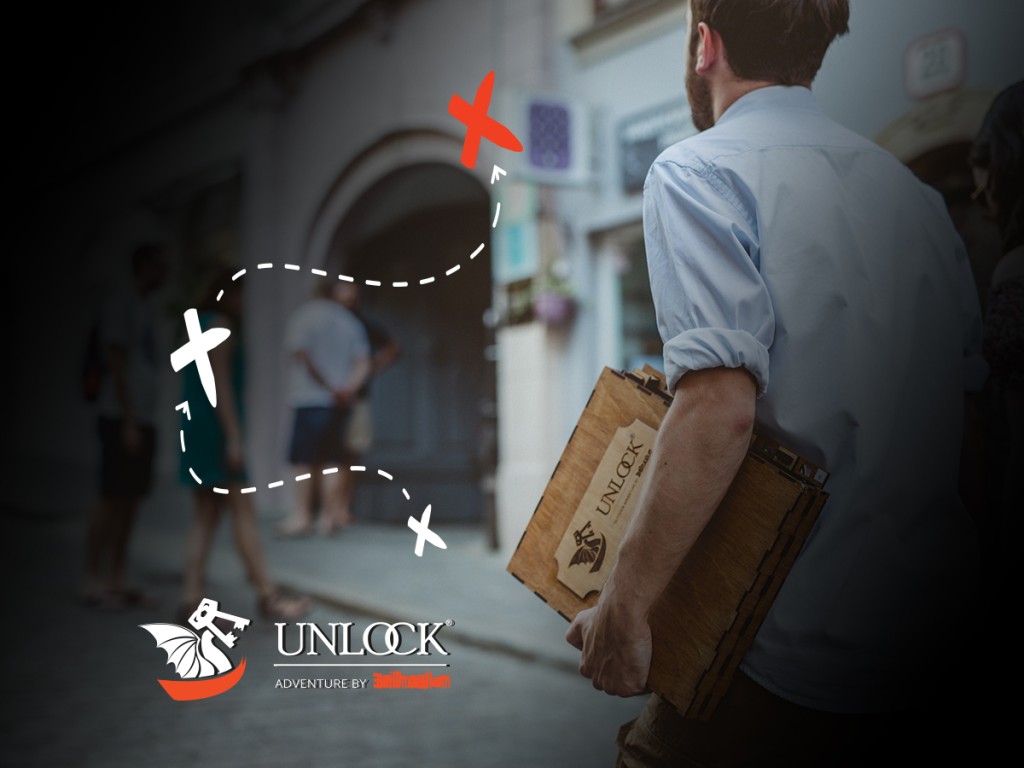 5. ONLINE TEAMBUILDING PROGRAMS (ONLINE)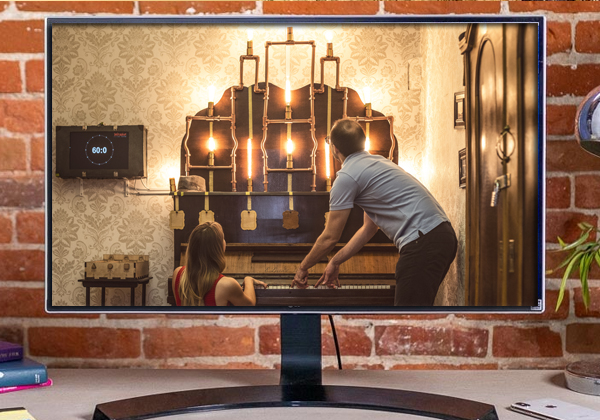 Virtual teambuilding events are a great solution for building meaningful relationships between coworkers while working from home. Such work is lonesome and often dull – that's why virtual team stories are incredibly important – they improve communication and cooperation and at the same time, build friendships and a sense of belonging.
You can choose from multiple programs;
– a new "remote" escape room experience! In the remote escape room in Slovenia, your gamemaster becomes your avatar and ventures into one of the best escape rooms for you. From the comfort of your home couch, you and your team give him directions and solve puzzles remotely via the Zoom app.
Perhaps you'd rather become a jury member in the interactive online drama "THE VERDICT" or turn yourself into Indiana Jones while discovering the ancient Pyramid? No matter what you'll choose, an exciting adventure awaits you!
Learn more: https://online.enigmarium.si/;
Duration: from 60 to 120 min
No.  of attendees: from 5 to +100
Price: from 17€ + TAX –  ask for an offer
6. NEW! WINESPERIENCE® ART – a new and different concept of escape
Winesperience® Art is a relaxing and fun way to socialise with friends and a glass of carefully selected Slovenian wine. Under the guidance of skilled academic painters, you'll paint your own acrylic masterpiece that you'll proudly take home.
In the innovative WINESPERIENCE® ART workshop, you'll transform yourself into a painter while having a great time tasting wine and socialising. We can adapt the motive you'll paint especially to your group!
The 2-hour-long, easy-going workshop under the step-by-step guidance of an experienced artist, enriched by local wine tasting with a sommelier and hanging out with friends, co-workers or meeting new faces will pass like a flash.
Location: Ljubljana, Parmova street 51 – up to 20 attendees / or your location (hotel, hall …)
Time: booking in advance required
Duration: 120 – 180 minutes
No of Participants: 10 – 35 participants
Price: 490€ up to 10 participants + 35€ per person for larger groups
(+ TAX in case of extra personified experience)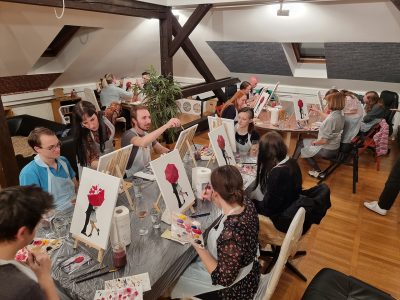 7. CUSTOM PROGRAMS; UP TO 500 ATTENDEES
a) Combined programs can include multiple programs that starts at the same time and place. The case of the 400 attendees in Ljubljana, September 2021:  100 players played Unlock, 100 players played The Dragon's code, and others took gamified  Quiz at riverboat tour.
b) CUSTOM-MADE GAMIFIED EXPERIENCES
Enrich your event, teambuilding activity, city centre, museum or castle with an innovative attraction! Trust the gamification pioneers and trendsetters who have created award-winning projects such as the Escape Igloo® (Snovalec Award), the Escape Bivouac at the Slovenian Alpine Museum (Živa Award and Valvasor Recognition), or the Save the Dragon® adventure at Slovenia's most-visited attraction: The Ljubljana Castle!
We are the happiest creating new gamified attractions, so give us a call if you are keen to collaborate on a new extraordinary experience!
Contact us for more!
8. TEAMBUILDING – ESCAPE WORK(shop)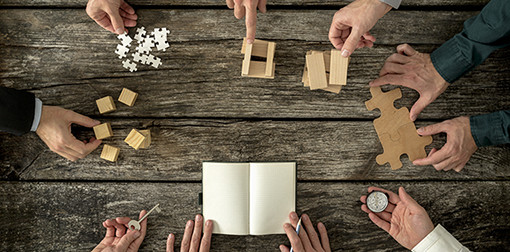 … From co-workers to team players in one day
Enigmarium Extraordinary Experiences presents a novelty in its programme, which we developed in collaboration with Dr Tomaž Kolar, professor at the Faculty of Economics in Ljubljana: The Escape Work(shop).
In this holistic teambuilding event, participants first try their hand at a fun escape room game. Then, through analysis and reflection, they'll learn about the importance of gamification and entertainment as approaches used by the largest and most successful international companies, such as Google, Red Bull and Lego, to develop the competencies of their employees and improve their business results.