WILL YOU BE ABLE TO ESCAPE IN ONE HOUR?
Welcome to ENIGMARIUM, the FIRST and the FAVOURITE escape room in Ljubljana. Get ready for an incredibly fun, original and one of a kind test: to escape from a locked room in one hour. Will you succeed to unravel puzzles and riddles, decipher codes and find the hidden clues so that you can unlock the door to freedom?
That we don't know. We do know that a wild and unforgettable adventure and a fun time await you  in a
eight different, immersive and most entertaining rooms

, awarded with TripAdvisor certificate of Excellence!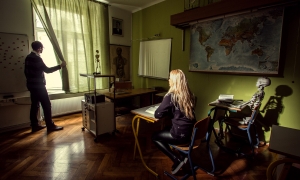 Classroom of Doom – "the school hour never passed so quickly"
Location: Trdinova ul. 8, Ljubljana | 60€
Genuine classic escape room! Reveal the crazy professor's secret and escape from his quirky classroom – or you'll be doomed forever! Time travel to the 1980s and discover a 100% authentic old-school classroom setting just like during the time of socialism, when President Tito "ruled" Yugoslavia.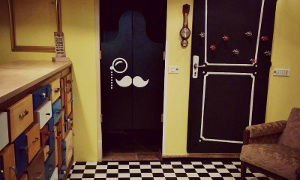 First detective agency
Location: Trdinova ul. 8, Ljubljana | 60€ – excellent game for kids and beginners
While they unexpectedly, but also suddenly disappeared, vanished, … in a moment, as it were, all known detectives in the city, the First Detective Agency emerged right next to the court and the main police station at Trdinova 8. Detectives and detective apprentices are urgently needed to find out what's going on …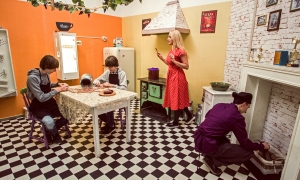 The maestro Luigi & secret recipe
Location: Trdinova ul. 8, Ljubljana | 60€
Escape hedonists, welcome to Maestro Luigi's famous kitchen! Famous chef Maestro Luigi created a recipe for pasta that made everybody happy. When the thugs found out about the recipe, they set out to steal it. Thus Luigi had it encrypted. Will you be able to decipher the encrypted recipe and make the world happy (before the thugs arrive)?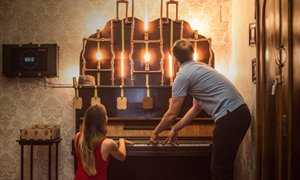 NEW! Salvation Room 2: Inventor Čuden's Wondrous Machine
Location: Trdinova ul. 8, Ljubljana | 60€
NEW! In a brand new episode of the most popular Slovenian escape game, new – never seen before – challenges await you. The famous inventor and engineer Alojzij P. Čuden has dedicated his life's work to inventing a machine to prevent earthquakes. Sophisticated seismographical instruments have just reported that an earthquake is about to shake Ljubljana. The only hope is for you and your team to find the way into his apartment and start the Wondrous Machine, before it's too late. Save Ljubljana!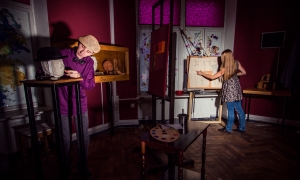 The artists Francesco lost inspiration
Location: Trdinova ul. 8, Ljubljana | 60€
Nobody knows why all of a sudden he got a creative block and stopped creating. Can you help him to find inspiration and start working again. Brand new room awaits you with new puzzles and surprising twists!  Come play and have fun.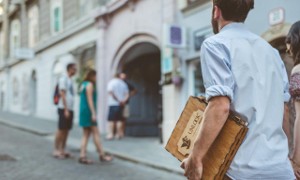 Unlock – meet Ljubljana in the entertaining outdoor "escape adventure"
Location: Ljubljana old town centre | 60 €
Escape to fresh air!  Embark on an adventurous journey through the old town with the "Escape room" game elements. Waiting for you are seven entertaining tests, where you will discover the secrets of Ljubljana, get to know the unknown, and above all have fun with your group of friends.
NEW: Circus® – The Mysterious Case of the Missing Elephant
Circus | Address: Trdinova 8 | 2-5 players | 60 minutes – 60 €
Have you ever wondered what it'd be like to peek behind the red circus curtain? To stick your head in the jaws of a lion? To saw a charming assistant in half? To throw knives, juggle, walk on a tightrope and clown around? In this new gamified experience, an intense escape game brought to you by the team of Enigmarium®, you'll step straight into the shoes of a circus ringmaster who has just gotten some unbelievable news! Your mission, which also includes elements of live action role-playing (LARP), will take you back in time to the days when the Kludsky Circus came to town and something outrageous happened in the park near Trdinova ulica. By solving the case, you'll also change the future. But beware: after playing this game, you'll probably never be the same.
NEW DIMENSION OF GAME: SENSPERIENCE®
Enigmarium® proudly presents SENSPERIENCE, the most immersive interactive gaming experience you can imagine! 90 minutes of breathtaking adventure awaits you – a mission that will astonish all your senses.
It's not immersive theatre. It's not an escape room. It's an adventure far beyond that – a game without rules, codes and wrong decisions.
You'll sit in a comfortable chair and you'll be blindfolded. Your gamemaster will be your guide in the imaginary world. Without leaving your seat, you'll hear sounds, smell odours, touch and use objects and interact with world around you. You'll feel strong emotions and an adrenaline rush since the imaginary world will become so realistic in your head.
Close your eyes and feel the deepest gaming experience you can imagine! Book now>> www.sensperience.si 
Price list
The price for one session to visit one of our Escape Rooms* is the same for all rooms: 60 EUR. The price is the same regardless of the number of participants: min 2 and max 5.
Book your session using our booking system above.
Pay for your session at the time of booking with PayPal (you can also pay with a credit card).
or, Pay for your session via bank transfer or at the location when you arrive to play – call us at +386 (0)31 33 44 88 or send us an e-mail to arrange.
*Sensperience: 90 minutes – 90€
Our escape room game is perfect for "Team Building" activities or for a truly special birthday celebration. You can even book a session outside our normal operating hours. And a hint for you lovebirds: we recently had a first in the special events category. Hidden behind the last locked door was a pair of golden rings. 😉 – Give us a call at +386 (0) 31 33 44 88!
Special instructions
Please arrive at the Escape Room Enigmarium® at Trdinova ulica 8 at least 10 minutes before the start of your session. Your friendly Gamemaster will explain the rules and ask you to sign a Non-disclosure Form – surely you can agree that it wouldn't be cool if someone told you the answers in advance and spoil the fun…
Safety regarding Coronavirus
We are following safety precautions (in sync with the Slovene Association of escape room activities ER.SI and NIJZ National Institute for Public Health) Find out more here >>
Operating hours
We are opened every day from 9am until 9pm but advance bookings (or phone call) via Internet are mandatory, since Enigmarium unlocks its doors only at previously scheduled times.
We can adjust the starting times on request – send us an e-mail: info@escape-room.si
Contact
Escape Room Enigmarium
Games location: Trdinova ulica 8, Ljubljana (all games are played at this location)
Business Address (HQ): Parmova ulica 51, Ljubljana (NOTE: location of managment only – games are not played at this location)
Telephone: 031 33 44 88
E-mail: info@escape-room.si
Web: http://www.escape-room.si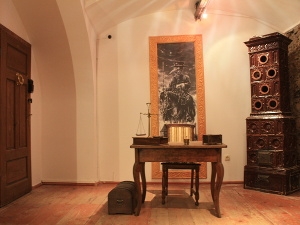 Maribor (SLO) – 5 games
Check out what mysterious is happening in ENIGMARIUM® rooms in Maribor so that the players are so thrilled! Be part of stunning 5D experiences in FIVE rooms in the biggest center on TURNERJEVA 17: Omega Virus, Redlight Casino, Hostel Shining, Escape Igloo and the first and most visited escape room in Maribor – Doctor Hannibal! Explore the streets of Maribor in the outdoor game Unlock!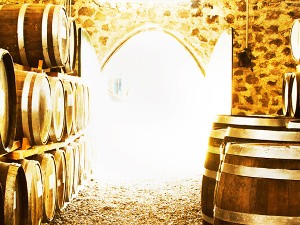 Laško (SLO) – 2 games
In the very same house in Laško in which the first barrel of beer was brewed in Slovenia, there is an original and entertaining challenge connected to the actual history and of course, to beer! Will you be able to find the way to the hidden and encrypted BREWER'S GOLD in one hour?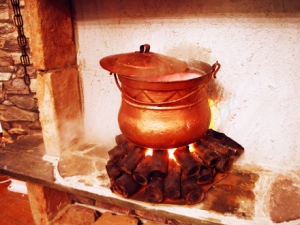 Zagreb (HR)
We'll take you back to the times when the people of Zagreb believed in witches! A successful and pretty young woman named Barica has been accused of witchcraft and her life is in danger. You will be sent back in time to help Barica prove her innocence and save her life­.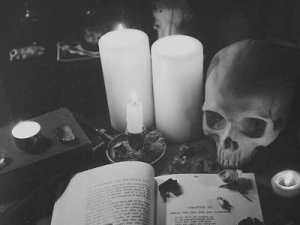 Murska Sobota (SLO)
After a successful academic career in Ljubljana, professor Professor Rufus Amadeus responded to a call for assistance from Murska Sobota. During renovations at the Hotel Diana, workers discovered an old sealed chamber filled with strange symbols and objects. From the moment the door was opened, very, very bizarre things began to happen to people…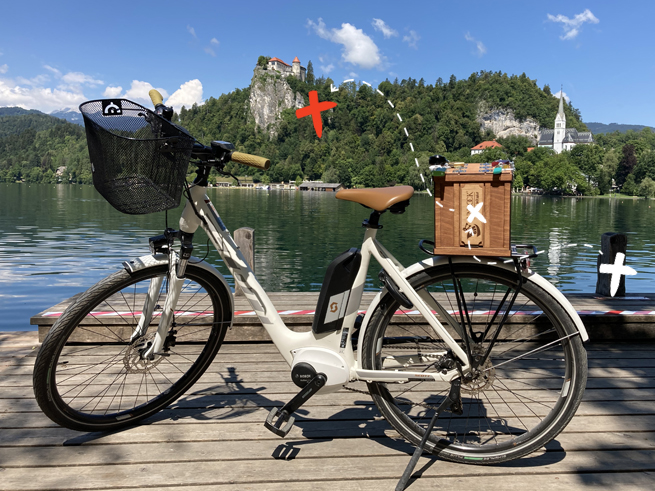 NEW! Unlock Bled
An unforgettable experience awaits you in the first original urban "escape" adventure that you can play on electric bikes. On a 120-minute, 10 km long circular cycling tour around Bled, seven exciting trials await you, where you will unlock secrets, learn legends and true history, rescue an awkward witch and have great fun while cycling! >> https://bled.escape-room.si/en/