ESCAPE IN ONE HOUR?
Welcome to ENIGMARIUM, the FIRST and the FAVOURITE escape room in Ljubljana. Get ready for an incredibly fun, original and one of a kind test: to escape from a locked room in one hour. Will you succeed to unravel puzzles and riddles, decipher codes and find the hidden clues so that you can unlock the door to freedom?
That we don't know. We do know that a wild and unforgettable adventure and a fun time await you  in a
six different, immersive and most entertaining rooms

, awarded with TripAdvisor certificate of Excellence!
Book now!
All our games can be played no matter what language you speak. Because interest in visiting the first escape room ENIGMARIUM is high, we recommend that you book your session STRAIGHTAWAY. Advance bookings via the form below are mandatory.
You can pay for your session via PayPal or at the location when you come for your session – you can call us at +386 (0)31 33 44 88.>>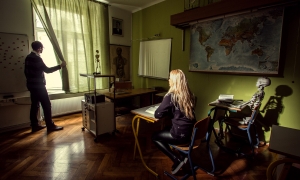 Classroom of Doom – "the school hour never passed so quickly"
Price: 60€
Location: Trdinova ul. 8, Ljubljana
A grave nightmare: staying after school, locked in the office of the mad professor. Only the bravest will dare to enter under lock and key. Will you be able to decipher the codes and unravel the logic games to escape from detention?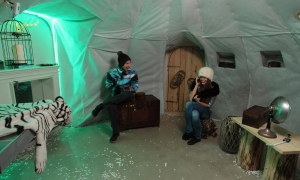 Escape Igloo – literally THE COOLEST game!
Price: 60€
Location: Trdinova ul. 8, Ljubljana
The Escape Igloo® is our "coolest" room, a unique escape room that received the prestigious Snovalec 2015 Award. Since the real Escape Igloo® can only be built during the winter, we have recreated the gaming experience of our 2015 Igloo v.1 indoors on Trdinova. Come have fun while saving the world!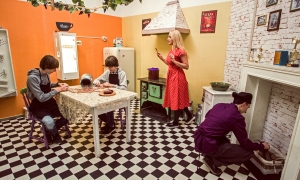 The maestro Luigi & secret recipe – the most popular room from Trieste on visit!
Price: 60€
Location: Trdinova ul. 8, Ljubljana
Welcome to Maestro Luigi's famous kitchen. Luigi created a recipe for pasta that made everybody happy. When the thugs found out about the recipe, they set out to steal it. Thus Luigi had it encrypted. Will you be able to decipher the encrypted recipe and make the world happy?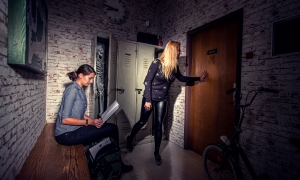 Salvation Room – a true classic! The escape room in its most elementary form!
Price: 60€
Location: Trdinova ul. 8, Ljubljana
Our first room – a true "escape room" classic! In a bourgeois apartment a bit reminiscent of Agatha Christie your detective knack – and your courage – will be put to the test. We hope that you won't be too frightened and you'll be able to get to the Salvation Room before the dark secret awakens!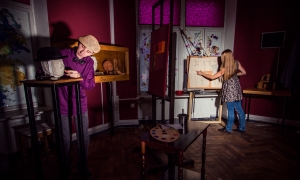 The artists Francesco lost inspiration – fantastic escape room from Trieste on visit!
Price: 60€
Location: Trdinova ul. 8, Ljubljana
Nobody knows why all of a sudden he got a creative block and stopped creating. Can you help him to find inspiration and start working again. Brand new room awaits you with new puzzles and surprising twists. Come play and have fun.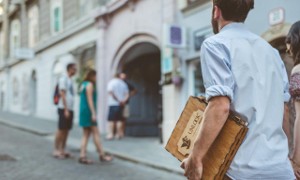 Unlock – meet Ljubljana in the entertaining outdoor "escape adventure"
Location: Ljubljana old town centre | 60 €
Embark on an adventurous journey through the old town with the "Escape room" game elements. Waiting for you are seven entertaining tests, where you will discover the secrets of Ljubljana, get to know the unknown, and above all have fun with your group of friends.
Test 2
Price list
The price for one session to visit one of our Escape Rooms is the same for all rooms: 60 EUR. The price is the same regardless of the number of participants: min 2 and max 5.
Book your session using our booking system above.
Pay for your session at the time of booking with PayPal (you can also pay with a credit card).
or, Pay for your session via bank transfer or at the location when you arrive to play – call us at +386 (0)31 33 44 88 or send us an e-mail to arrange..
Our escape room game is perfect for "Team Building" activities or for a truly special birthday celebration. You can even book a session outside our normal operating hours. And a hint for you lovebirds: we recently had a first in the special events category. Hidden behind the last locked door was a pair of golden rings. 😉 – Give us a call at +386 (0) 31 33 44 88!
Special instructions
Please arrive at the Escape Room Enigmarium® at Trdinova ulica 8 at least 15 minutes before the start of your session. Your friendly Gamemaster will explain the rules and ask you to sign a Non-disclosure Form – surely you can agree that it wouldn't be cool if someone told you the answers in advance and spoil the fun…
Natasa Potocnik
Dear Ladies, Best wishes to you all for Women's Day! Here's hoping that it will be unforgettable, extraordinary, and infinitely interesting day, just like you. We have a small invitation for you on this special [...]
Gregor
We decided to ask Nataša Potočnik and Peter Arčon, co-founders and creators of more than 25 different escape games (the most popular escape rooms in Ljubljana, Maribor, Murska Sobota, Laško and Zagreb as well as [...]
Natasa Potocnik
At Enigmarium escape room, someone is stealing cookies during the night. The security camera recorded this video >> https://youtu.be/0k_71OHTNxY Santa is very happy this year 🙂 He has already ordered presents and escaped from [...]
Operating hours
Advance bookings via Internet are mandatory, since Enigmarium unlocks its doors only at previously scheduled times.
We can adjust the starting times on request – send us an e-mail: info@escape-room.si
Contact
Escape Room Enigmarium
Trdinova ulica 8, Ljubljana
Telephone: 031 33 44 88
E-mail: info@escape-room.si
Web: http://www.escape-room.si
Other locations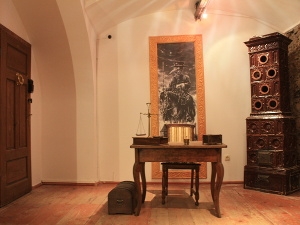 Maribor (SLO) – 5 games
Take part in the Medieval story of Dr. Hannibal and discover what kept the doctor alive while he helped patients survive the plague. However, you must escape before you get infected – in one hour!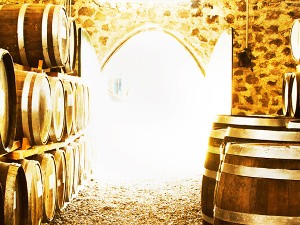 Laško (SLO) – 2 games
In the very same house in Laško in which the first barrel of beer was brewed in Slovenia, there is an original and entertaining challenge connected to the actual history and of course, to beer! Will you be able to find the way to the hidden and encrypted BREWER'S GOLD in one hour?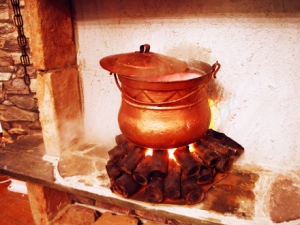 Zagreb (HR)
We'll take you back to the times when the people of Zagreb believed in witches! A successful and pretty young woman named Barica has been accused of witchcraft and her life is in danger. You will be sent back in time to help Barica prove her innocence and save her life­.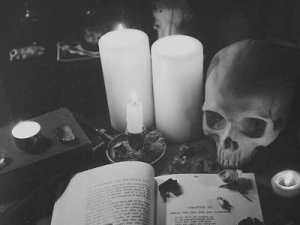 Murska Sobota (SLO)
After a successful academic career in Ljubljana, professor Professor Rufus Amadeus responded to a call for assistance from Murska Sobota. During renovations at the Hotel Diana, workers discovered an old sealed chamber filled with strange symbols and objects. From the moment the door was opened, very, very bizarre things began to happen to people…