Yesterday, June 12, at the Vurko Fest at Vurberk Castle, a new gamified / digitized family adventure route, which we designed at Enigmarium, also premiered.
This route is an interactive e-guide along an adventure route, full of fun puzzles, myths and legends, which, in addition to being entertaining, also has an educational role. Your guide, Vurko the Dragon has been in the world for a long time and has accumulated a lot of wisdom. We are sure that a two-kilometer or hour-long walk through the fairy-tale surroundings of Vurberk Castle will pass by like a flash and be forever etched in your memory. By digitizing the intangible cultural heritage, we have also ensured that Slovenian myths and legends will not be forgotten.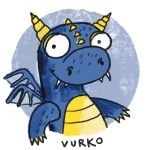 Did you know that Vurberk Castle is famous as the mythological center of Slovenia? Myths, legends, heroes and heroes have been born here since ancient times, mysterious creatures and supernatural forces live here, magical things happen here and rich treasures of cultural heritage are hidden here.      
Join the dragon Vurko on a two-kilometer-long adventure path full of fun loops, puzzles, myths, legends and bombastic secrets and discover what is most valuable.
The gamified – circular – family walking trail starts at the Culture Center in Vurberk, at the address Vurberk 93, where the players use the QR code from the board, which is displayed next to the entrance to the new Escape Room Enigmarium in Vurberk, to download the application to their mobile phone and then they follow the dragon Vurko and solve fun puzzles and tests all the way to the hidden treasure at the top of the castle hill, where a surprise awaits them in the form of AR technology (augmented reality).
The gamified e-guide can be downloaded for free on mobile devices. Installation instructions can be found on the board next to the Enigmarium® Escape Room entrance in the Vurberk cultural center building at Vurberk 93.
The project is co-financed by the Municipality of Duplek – LAS OVTAR, the European Agricultural Fund for Rural Development: Europe invests in rural areas.
*The game takes place along a forest path that also turns into a hill. We recommend that you wear appropriate footwear, a bottle of water can also come in handy on hot days. We promise that even adults will learn something new!