Gamify your workplace and strengthen your team's competencies in this "ESCAPE WORK(shop)"
Surely, you're interested in how to better connect your employees into an efficient team that will breathe for a common goal in your demanding business environment – and even have a good time? Introducing an innovative training and teambuilding opportunity: The Escape Work(shop) …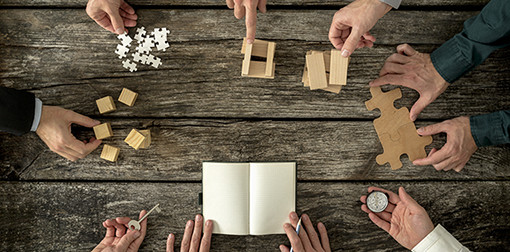 … From co-workers to team players in one day
Enigmarium Extraordinary Experiences presents a novelty in its programme, which we developed in collaboration with Dr Tomaž Kolar, professor at the Faculty of Economics in Ljubljana: The Escape Work(shop).
In this holistic teambuilding event, participants first try their hand at a fun escape room game. Then, through analysis and reflection, they'll learn about the importance of gamification and entertainment as approaches used by the largest and most successful international companies, such as Google, Red Bull and Lego, to develop the competencies of their employees and improve their business results.
You'll also learn
how to achieve serious business goals in a fun way

, why games attract us so much and why we "give our best and what we can't stop" when playing, and how we develop vital skills through the game. This educational workshop will show you how to create such an atmosphere in your work environment and introduce you to the key elements, principles, functions and various

possibilities of using games in business and other life situations.
Contact us >>
Interested in how to use games to achieve better results in a business or personal setting?
Call 031 33 44 88 or write to us so that we can prepare the most suitable programme for your wishes.
Contact us >>
If you are looking for a different teambuilding event this year, in which the participants will learn beneficial and useful skills – and have fun at the same time – our "Escape Work(shop)" is the only right answer!
Pišite nam
Pišite nam
Schedule and course
Workshop timeline: the workshop takes place between 9:00 and 17:00 (or the timeline can be modularly adjusted to your wishes). It begins with an introductory speech, followed by an escape from the rooms, and the first part of the lecture, where we analyze the game and learn about the possibilities of using gamification and entertainment in the business environment. This is followed by a lunch break, followed by an interactive practical workshop in the lecture hall, which ends with another escape, in which you will be able to use the acquired knowledge.
Center in Ljubljana
Circus® – The Mysterious Case of the Missing Elephant
Salvation Room 2: Inventor Čuden's Wondrous Machine
The First Detective Agency
Luigi's Secret recipe
Unlock game (up to 150 people)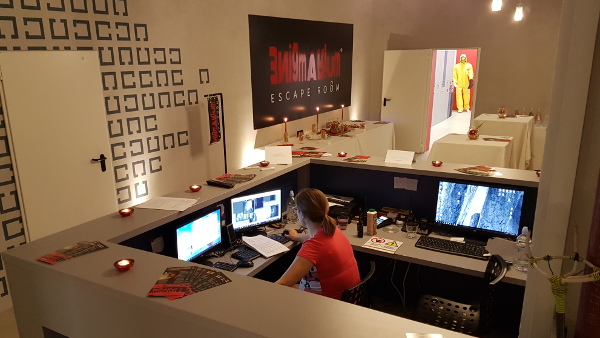 Center v Mariboru
Omega Virus Outbreak
Hostel "Shining"
Redlight Casino
Dr. Hannibal
Unlock Maribor (also for up to 100 people)