GAMIFICATION IN TOURISM – CREATING UNFORGETTABLE EXPERIENCES – GAMIFICATION FOR REVIVING CULTURAL HERITAGE AND ACTIVATING VISITORS
We are aware of the growing importance of "gamification" and "storytelling" in tourism – today's visitors no longer just want to be passive observers, but want more active, individual experiences – in which they will have as much fun as possible. That's why the Enigmarium® team is developing unique gaming solutions in tourism.
In addition to the ever new, most innovative escape rooms, where we develop partner models of cooperation under the auspices of our brand at various locations, we also offer "custom-made" solutions for different experiences – from gamifying business events, city centres, historic castles to museum presentations, congresses and other "custom made" solutions.
Gaming and its broader concept – experiential marketing – are an increasingly important marketing tool
In 2014, the team of the Connecta Creative Agency was the first in Ljubljana to design and present its original "escape room", thus creating the brand Escape Room Enigmarium® .
Today, with more than 30 completely original real life escape games at home and abroad, Enigmarium® is a trendsetter and a leading provider of innovative gamification of tourist experiences / events / sights in the Alpe Adria region.
Gamification offers exactly that and much more!
Unforgettable moments and first-person interaction revive the brand, strengthen commitment and enable connection on an emotional level. We offer "custom-made" solutions for experiences where your visitors are in the lead – from the gamification of events, diversification of congress programmes, increasing the attractiveness of city centers and attractions, gamifying historic castles, museum presentations and other "a la carte" gamified solutions to activate customers / loyalty programmes, etc.
In addition to the award-winning Escape Igloo® project (semi-finalist of the Sejalec Award 2016 and recipient of the Snovalec Award 2015), the team also developed many other projects: The innovative "outdoor" UNLOCK urban adventure that you can play (and learn about local history) in five European cities. The Mountaineering Museum in Mojstrana, which has received several prestigious awards (honorary Valvasor Recognition, Živa International Innovation Award). With Connecta, we have used our completely original gamification concept (considered a pioneering project worldwide) to co-created several games in medieval castles: through the "ESCAPE CASTLE" adventure games – at Morosini Grimani in Svetvinčenat near Pula, Ljubljana Castle, Prem Castle and Vurberk Castle – we have revived legends and local history and playfully enriched the tourist offering.
In addition to more than 30 original escape games, today Enigmarium® is also the first creator and provider of gamification of tourist services with innovative projects and international references:
CITY CENTER GAMIFICATION – OUTDOOR "UNLOCK" urban adventure – a worldwide hit
In a completely new game with elements of an "escape room" adventure, you'll literally escape from the room into the fresh air. On an adventurous journey through the old city centre, seven fun trials await you, where you'll unlock the secrets of Ljubljana, discover the unknown, be pleasantly surprised, enthusiastically shout "Eureka!", breathe fresh air in great company and above all – have excellent fun!
Enigmarium designed the game in a version for groups of 2 to 5 players. The version for large groups, in which up to 150 players can get to know Ljubljana through the game, also impressed the participants of the international conference Global Green Destinations Day, which took place on World Tourism Day in Ljubljana. You can play the popular game Unlock in Ljubljana, Maribor, Zagreb, Laško, Slovenj Gradec, Tolmin. Versions are also available in Tampa, Florida and Ohio! Explore the city in the most fun way!
GAMIFICATION OF MUSEUMS: award-winning gamified museum adventure test: "Escape to the bivouac!" Slovenian Alpine Museum in Mojstrana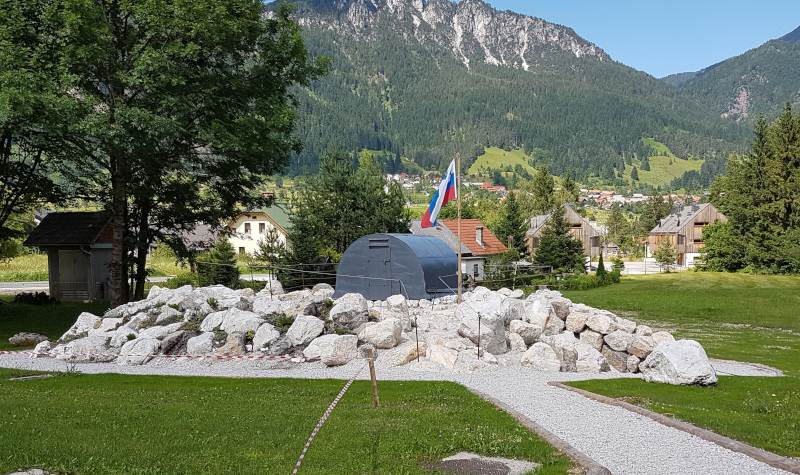 In cooperation with the SLOVENIAN ALPINE MUSEUM in Mojstrana, we presented an innovative novelty in the field of gamification – a playful path of adventures called "Escape to the bivouac", which we pioneered, designed and realised at Enigmarium®!
The legendary BIVOUAC II has served its purpose and moved from under the Rokavi Mountains to the lawn in front of the museum. Since we could not alter or interfere with exhibit in any way, in cooperation with the support of the local community, we placed a hidden space under the rock, where there is a playful path – you just have to pass 4 mountaineering trials to get to the bivouac.
In this case, it is not a classic "escape room", where the game is monitored by gamemasters. Instead, we developed an innovative way of encountering the museum exhibit, in a way that mimics real life. Museum visitors are thrilled with the game.
A PLAYFUL ADVENTURE IN THE MUSEUM OF MILITARY HISTORY PIVKA NOW HERE!
GAMIFICATION OF A CASTLE – the first innovative adventure game "ESCAPE CASTLE®" in the Svetinčenat Castle near Pula, the game "Liberate the Dragon" Ljubljana Castle, "Chase the Witch" from Prem Castle and "Vurko's Treasure" – a family adventure trail at Vurberk Castle.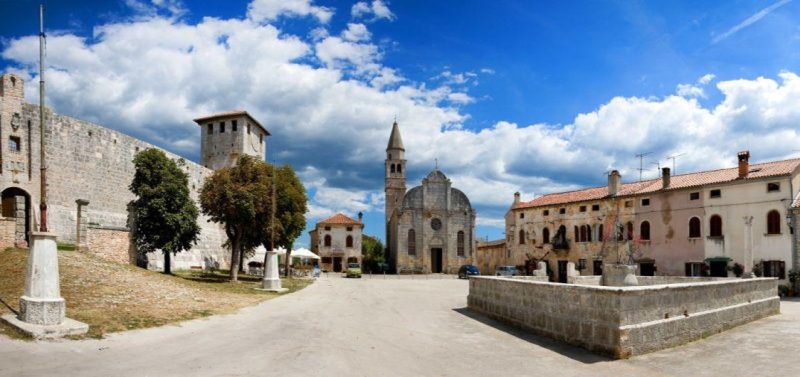 ESCAPE CASTLE® CONCEPT
In a fun adventure in the beautiful Morosini Grimani Castle in the idyllic Istrian village of Svetvinčenat or at the Ljubljana Castle, Prem Castle or even Vurberk Castle, you can embark on a unique and original adventure that combines elements of an escape room game and a treasure hunt – but best of all, each game is customised, the story takes place in a real castle and the puzzles merge with true legends and historical facts, providing a truly immersive experience!
ESCAPE CASTLE® SVETVINČENAT
Enigmarium® was the first in the world to prepare a completely new and original adrenaline escape adventure ESCAPE CASTLE® in 2016. The original advantage of this playful (and copyrighted) concept of escaping from the castle is that in the game players in a group of 2 to 5 people learn about the history of the castle, knightly virtues ​​and the legends associated with it – and of course they have fun. With the help of a game sheet and innovative gadgets and tests you'll get to know the real local history through the game. The castle walls protect a great secret that can only be revealed by the most noble, resourceful, honest, dedicated and brave. Will you save the legacy of the mysterious knight and unravel the mystery?
We are proud that the Municipality of Svetvinčenat entrusted our team with this innovative pioneering project of the first gamification of a castle, which not only revived the castle's walls and legends but also enriched the village's tourist offer. MORE>>
ESCAPE CASTLE® LJUBLJANA CASTLE
We are also proud to have revived the dragon on the most popular and most frequently visited tourist attraction in Slovenia, the Ljubljana Castle. MORE >>
"ESCAPE CASTLE®" projects are completely original (and copyrighted and branded) as well as a global innovation in the field of "escape games" – let us once again mention that we designed a solution that does not encroach on cultural heritage and even allows up to 6 teams to play the escape castle game at the same time. But we see that we have already inspired others to follow suit! 
ESCAPE CASTLE® GRAD PREM
In May 2021, a new ESCAPE CASTLE game came to life at Prem Castle – in a fun adventure (merged with true history) you help Duško Kresnik save Prem from the spirit of an evil witch. Thrilling! MORE >>
ADVENTURE GAME VURBERK CASTLE
In June 2021, we hatched "Vurko's Treasure" an interactive guide through an app in your phone to the adventure route, full of fun puzzles, myths and legends and has an educational role. MORE >>
Escaping from a castle has never been so much fun!
IGRIFICATION FOR IMPROVEMENT OF TEAM COMPETENCES – ESCAPE WORK (shop) and "Thinking outside the room – to create unforgettable experiences" workshop.
At Enigmarium®, we have recognized the importance of GIGRIFICATION as an approach aimed at improving the key factors of business success and the work environment. Therefore, in cooperation with the Faculty of Economics Ljubljana, under the leadership of Associate Professor dr. Tomaž Kolar, prepared educational workshops for companies entitled: ESCAPE WORK (shop) or IGRIFICATION and ENTERTAINMENT-LOGY – what is it and how to use it in the company?
You will learn why games attract us in such a fun way and when we play "we do our best and what we can't stop", and in addition it has very serious and useful effects, because with them we develop vital skills. And why (damn!) It's not like that at work – and how it can be. The meaning, key elements, principles, functions and various possibilities of using games in business situations and environments will be presented.
In the practical workshop "ESCAPE WORK (shop)" we will use playfulness and energy to prepare a set of fun and serious ideas, "toys", measures and incentives with which you can escape home.
It will be useful for playing on the important levers of success, competencies and job satisfaction such as adaptability in new situations, commitment, creativity, cooperation and communication in the group, group leadership, group ambition and self-confidence.
Above all, for how to happily infect anyone who forgot to play. Nataša Potočnik , creative director and adventure designer, also shares her knowledge with the workshop Creating an unforgettable – gamified experience by thinking outside the box ". She is a regular guest at faculties, schools and congresses and lectures at international conferences, and new fiction projects are being created under her tutelage.
GRIGIFICATION OF MEETINGS, CONFERENCES, BUSINESS AND OTHER EVENTS, CUSTOM – MADE SOLUTIONS, AND ASSISTANCE IN PREPARING TENDER DOCUMENTATIONS
The Escape room Enigmarium® team is the right address for completely "custom" gaming experience solutions, as the advantage of the Escape Room Enigmarium® is that we constantly innovate and develop completely fresh and original concepts, and we also boast international references .
The right amount of difficulty, mystery and various puzzles and tasks for each member to come at his own expense, and of course surprises, hints and completed dramaturgy is the one that causes a "hebrew" moment and distinguishes Enigmarium rooms from all others. That's why players love to come back, and Escape Room Enigmarium® remains the leader in this field in the wider region. That is why we are also the right contractors if you want to apply for an idea.
Contact us, we are happy to prepare a project for you: info@enigmarium.si